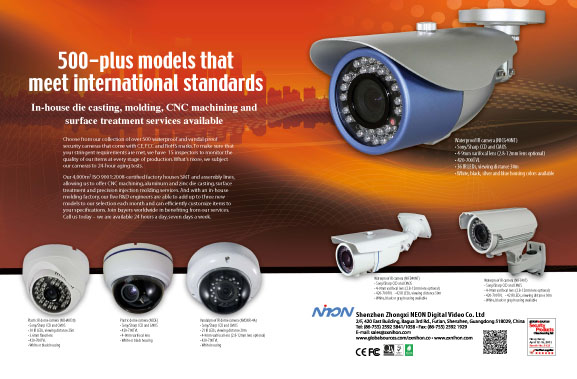 Share:




E-mail

Print

Bookmark
Shenzhen Zhongxi NEON Digital Video Co.Ltd

Follow me

In-house die-casting, molding, CNC machining and surface treatment services

6 Star China (mainland)

Credit Check - Supplier Credit Profile

provides impartial credit and vital business metrics for select suppliers on Global Sources Online. Using the Credit Check reports, buyers can easily compare key indicators and more efficiently manage risk. Suppliers with a Credit Check logo have agreed to allow this information to be reported to help buyers streamline the selection and due-diligence processes.

The supplier information below has been obtained from relevant government agencies in the supplier's country and is subjected to change without prior notice. Credit Check and verification procedures were conducted by First Advantage, a third-party credit agency.
Read Disclaimer


Registered Address:
East of 2/F, Block 420, Bagualing Industrial Zone
Futian District, Shenzhen
Guangdong Province, China

Incorporation Date:
October 18, 2005
Legal Form:
Sino-foreign Joint Venture Enterprise
Company Status:
Live
Registration Agency:
Administration of Industry and Commerce, Shenzhen City Futian Branch
Registration Number:
44031501122997
Authorized Capital:
RMB 2,000,000
Paid-Up Capital:
RMB 2,000,000
Legal Representatives:
Yang Fa Sheng
Import & Export Licences Obtained:
Yes
Business Scope:
Manufacturing and selling of network camera, high speed dome camera, fast trace camera, camera and hard disk recorder. Developing and selling of matrix hard disk recorder, video optical terminal, electronic monitoring network and equipment and its software and hardware, 360° camera and 360° tracking system. Technical consultation service. Import and export business.
Business Permit Expiry:
October 18, 2020
Shareholders:
• Jiang Yu Lin
• Shenzhen Zhongxi Precise Metal Product Co., Limited
• Shenzhen Zhongxi Optical Instrument Co., Ltd.
• Shenzhen Zhongxi Mechanical Industry Co., Limited




Want a more detailed Credit Report on this supplier?



Contact Details




Shenzhen Zhongxi NEON Digital Video Co.Ltd
2F, 420, East Building,
Bagua 3rd Rd,
Futian
Shenzhen
Guangdong
China 528029
Tel: (86 755) 25121916
Fax: (86 755) 25921929 / (86 755) 25921916


Homepage Address
http://www.globalsources.com/zxnihon.co
Other Homepage Address
http://www.zxnihon.com


Chat with supplier using:

Key Contact:
Mr Li, Jun
Manager


Ms Jiao, Kate
Overseas Sales
Overseas Sales


Ms Wang, Sana
Overseas Sales
Overseas Sales


Ms Zuo, Left
Overseas sales
Overseas sales


Ms Chen, eira
Overseas sales
Overseas sales


Supplier and product information updated May 17, 2013.
Verified Business Registration Details
Registered Company: 深圳中西霓虹数码视频有限公司
Business Registration Number: 440301501122997
Company Registration Address: 深圳市福田区八卦岭工业区420栋二楼东


* In some jurisdictions, company names and addresses are registered in Chinese only.